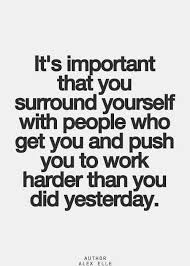 When you want to accomplish anything, find a group of like-minded people to help you achieve your goal or inspire you to greater heights. That's one reason working out with a group that's sincere in their efforts to get the most out of their exercise plan can be beneficial. People who want to achieve the most are normally those that share with others and accept the help and support of others graciously. That's one reason UA is so popular.
Personal trainers are an important source of motivation, but not the only source.
Have you ever felt the electricity in the air when people are all working toward the same goal? That's what happens at UA. Our trainers really care, but so does the rest of our fitness community at UA. They help drive one another toward greatness, challenging each other to do even more and supporting their colleagues when the road is tough. You'll feel welcome here and love how much help like-minded people can be.
People in our community tend to hold you accountable.
That's not mean of them. Quite the contrary. Everyone needs to be held accountable, even trainers. While part of the motivation of using a trainer is that you have someone holding you accountable for showing up and putting forth all your effort, imagine how potent it is when a whole community of people do. You won't coast through workouts because you'll be busted immediately and as for missing sessions…it just won't happen without someone noticing.
It's really more fun with a group.
Achieving a goal is more fun to share when everyone knows how hard it is to do. Sure, you can go home and share your victory with a significant other, spouse or family member, but most of the time, they just don't "get it." They don't understand the significance or how hard it was to achieve a new milestone in your workout program. Our community at UA does.
You'll get the personal attention of private sessions at the price of a group workout. It makes it a bargain. You don't have to be on a budget to truly appreciate getting more for your workout dollar. You're never just another number here.
While everyone in the group is at different levels of fitness. Each is working at maximum potential, so they have empathy for all other participants. It's about achieving your own goals, not beating someone else.
Our fitness program works quickly, so you'll spend less time at the gym. Most of our clients are busy people, so the conversations they share are about getting fit, eating healthy and better ways to do both.
Our like-minded community does more than just support one another in the gym. They share the nutritional tips that work for them and may work for you.